SL Blast Hatches
Blast hatches are small blast-resistant access doors or windows protective covers designed to stop the advance of blast waves into protected areas of civil defense and shelters. In many cases blast hatches are used as a secondary access point (in case the door is block by debris), which should be positioned in reasonable distance from the main door.
Temet's hatches are fabricated from structural steel with a solid homogeneous door plate. While they can be opened and closed manually from either side, burglar resistance has been factored into the design phase. Hatch frames are designed for easy installation into reinforced concrete walls and hatch plates/frame assembly are optimized to transfer blast forces into the surrounding wall.
Our blast hatches can also include gaskets for gas-tightness down to 0.2 dm3/s (0.72 m3/h) for each square meter of the opening with an external overpressure of 150 Pa.
All of our blast hatches are made in accordance with the provisions issued by the Finnish Ministry of the Interior.
You can contact Temet here for more detailed product info and enquiries.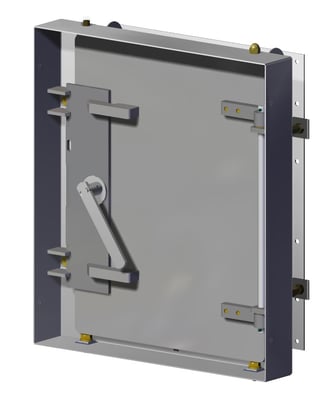 Blast Hatch SL-1
Send an inquiry!
Fill in your contact information, name the products or services you're interested in, and our sales personnel will contact you.