YV Overpressure valves
Overpressure valves are designed to regulate or limit the exhaust air and create and maintain adequate overpressure inside the shelter. The overpressure inside the shelter is a critical function as it prevents any leak of toxicants into the protected area. Whenever there are toxic chemicals or gases outside, the protected area should maintain adequate overpressure to prevent the toxicants from entering. Without the overpressure, even a simple wind gust could push the toxicants inside the shelter.
Overpressure valves are commonly installed in civil defense shelters, special purpose protective structures and protected industrial facilities. When installed on the external (blast) perimeter of the protected area, an overpressure blast valve is required, which combine the overpressure valve and the blast valve functionalities.
Temet's overpressure valves are corrosion-resistant and have been designed and tested to retain full functionality after multiple blast loads and in a wide temperature range.
Various models, materials, sizes, and installation options are available to fit almost any requirement.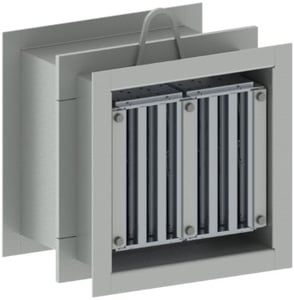 YV-KK-2 overpressure blast valve
Send an inquiry!
Fill in your contact information, name the products or services you're interested in, and our sales personnel will contact you.