SO Blast Doors
SO Blast doors are one of the most crucial elements of any civil defense shelter or other operative protective structure. They can protect against blast waves, fragments and entry of toxic gases.
Temet blast doors are primarily designed to stop the advance of air blasts but can also be made airtight to prevent the entry of toxic substances. All doors are designed for simplicity, reliability, and minimal maintenance. A variety of options is available including motorized\remote controlled mechanisms, special hinges for daily use, and additional security features.
Temet offers a wide range of pre-engineered standard doors with various blast ratings that are designed to stop the advance of blast waves through passageways into protected areas in blast-hardened civil defense and military shelters. We also offer custom-made doors.
Our blast doors are made of structural steel with solid homogeneous steel plates and can open and close manually from both sides. The flush design of their frames allows for easy installation into reinforced concrete walls, and the door plate/frame assembly is formed from an optimized pattern that transfers any blast force to surrounding walls.
Since doors are to be cast in concrete, delivering a completed solid steel door provides another significant advantage of a fail-proof installation. As the door is fully fabricated and delivered as a finished product there is no need to add anything to the door at site (like casting concrete into the door), which could compromise the professional fabrication and alignment made in the factory.
Our Standard SO blast doors series are made in accordance with the provisions issued by the Finnish Ministry of the Interior. The standard SO-1 door is designed to withstand multiple long duration blast loads having a reflected loading pressure of 2 bar (200 kPa), the SO-3 is designed for 8 bar (800 kPa), and the SO-6 for 18 bar (1800 kPa). We've have delivered custom doors designed for higher blast loads of even 170 bar (17,000 kPa) and more.
Our standard doors are available in a wide range of sizes, and as single or double leaf doors. Standard Temet blast resistant doors are featured in detail in our leaflets.
For any additional feature or requirement out of our standard doors, please visit our custom-made doors page or contact us.
You can contact Temet here for more detailed product info and enquiries.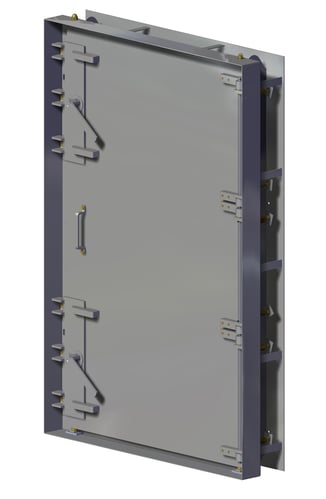 Temet's SO Blast Door
Send an inquiry!
Fill in your contact information, name the products or services you're interested in, and our sales personnel will contact you.