PV-KK series INDUSTRIAL BLAST VALVES
Industrial blast valves are designed to protect personnel and critical equipment from blast waves created by explosions in industrial facilities (oil refineries, nuclear power plants and more). They and can be implemented in control rooms, instrumentation rooms, electrical substations, personnel spaces, emergency shelters and other critical functions.
These valves are integrated into ventilation openings to prevent the blast waves from entering the protected area and cause damage. The valve is self-actuated by the blast wave and double-action for protection against both the negative and positive phases of the blast.
Temet has a variety of solutions for different applications and technical requirements. Our industrial blast valves have high blast and corrosion resistance and are double-action self-actuating. These valves provide a high operational and safety level in any emergency situations. Various models, materials, sizes, and installation options are available to fit almost any requirement.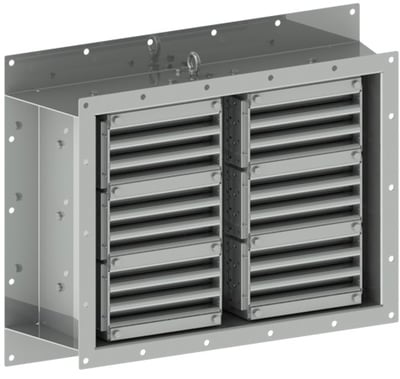 Industrial Blast Valve PV-KK-S (2x3)
Please contact us for further information.
Our experts at your service
Send an inquiry!
Fill in your contact information, name the products or services you're interested in, and our sales personnel will contact you.